About The Early Childhood Center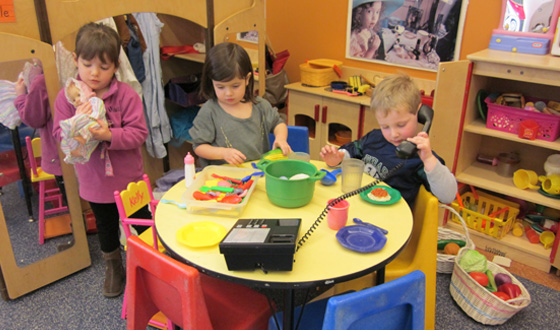 Philosophy and Curriculum
We are proud to say that Temple Beth Sholom has been providing outstanding, developmentally appropriate secular and Judaic programming for over 30 years.

The Temple Beth Sholom Early Childhood Center provides a warm, safe and caring atmosphere in which children can grow emotionally, socially and intellectually. We provide children with a quality education, and offer an enriched program geared to the developmental growth needs of young children. We are guided by the philosophy that "play is children's work".

We are staffed by certified teachers and we are registered with the New York State Department of Education and licensed by the New York State Office of Children and Family Services.

Creativity, individualization, intellectual stimulation, incorporating appropriate readiness skills, and interpersonal relations are elements of our program. We give each child the opportunity to explore new ideas and new places and to feel the satisfaction of achievement through his/her own efforts. Content related to Jewish living through identification with culture and tradition is incorporated. Through the celebration of Shabbat and the Jewish holidays and of Israel, our children experience the beauty and joy of their heritage.

The most important goal of our early childhood curriculum is to help children become enthusiastic learners. This means encouraging children to be active and creative explorers who are not afraid to try out their ideas and to think their own thoughts. We seek to empower children to become independent, self-confident, inquisitive learners. We take pride in teaching them how to learn, not just in preschool, but throughout their lives. We allow them to learn at their own pace and in the ways that are best for them. We give them good habits and attitudes, particularly a positive sense of themselves, which will make a difference throughout their lives.

As part of the school day, our children enjoy weekly yoga classes, library time and music classes. In addition to our program for three and four year olds, we also have a wonderful toddler program for our two year olds, a Mommy & Me program for children from 11-22 months old, and a Baby and Me class for children 3-12 months old.

Our after school enrichment programs enhance the daily school experience. Children can enjoy computer classes, music classes, nature and movement classes; all taught by experienced individuals in their respective field.

We hope you will become a part of the TBS family where you and your children can begin a lifelong journey of learning, beginning at the early childhood level, continuing throughout elementary, middle and high school, along the way taking advantage of all the wonderful and enriching adult and family education opportunities that we are so very proud of.
You can contact us at (516) 621-1171 or via email.
Classes and Times
Temple Beth Sholom's Early Childhood Center is excited to announce new, extended hours available at our Ostrow Early Childhood and LIfelong Learning Center/Auerbach Early Childhood Center
We are here to meet your family's needs from 7:00 AM to 6:00 PM!
For pricing information please contact Helayne Cohen at 516-621-1171
New Infant and Toddler Programs!
Mommy & Me Classes
Tuesday & Thursday 9:30-11 AM
Mommy and Me is 1 ½ hours of pure fun for you and your child/children ages 12 months – 23 months. Join us and laugh, learn and enjoy a "first school" experience that will create lasting memories. Share tips with other moms/dads/grandparents/caretakers for making everyday routines a little easier and a lot more fun! For more information, please contact the Early Childhood Center at 621-1171.
Baby & Me
Baby and Me provides a wonderful bonding experience for you and your baby. Spend a fun filled time enjoying movement, music, story time and more while meeting new friends. Ages 3 months – 12 months. For more information, please contact the Early Childhood Center at 621-1171.
Turning 2
This stimulating school experience will intrduce your child to Jewish holiday celebrations, art, music and more, all while learning how to make and be a good friend.
Toddlers (2's) 9:30AM-12:30PM - 3,4 or 5 day program
Three Year Olds 9:30AM-1:30PM Monday-Friday
Four Year Olds (Pre-K) 9:15AM-2:15PM Monday-Friday
After School Enrichment
Little Chefs
Mathletes
Pee Wee Pros
Twisters
Tae Kwon Do
Boppersize
Games Galore Let's Explore
Abracadoodle

Early Care and Late Care
Offered Monday-Friday
Drop off beginning at 7AM and Late Care until 6PM
Additional cost to families
Stay and Play

Stay and Play is an optional extension program at the end of the school year. Children spend time having fun with visits from a petting zoo, the local police and fire department and enjoy outdoor play with our dedicated professional staff.
Summer Program Possibilities
Toddler Time at TBS
Two-Year Olds turning 3 After June 30th
Monday, Wednesday and Friday
10:00AM-12:30PM
Monday, Tuesday, Wednesday and Thursday
10:00AM-12:30PM
Monday-Friday
10:00AM-12:30PM
For more information, contact Helayne Cohen, Director of Early Childhood at 516-621-1171. Transportation is available.